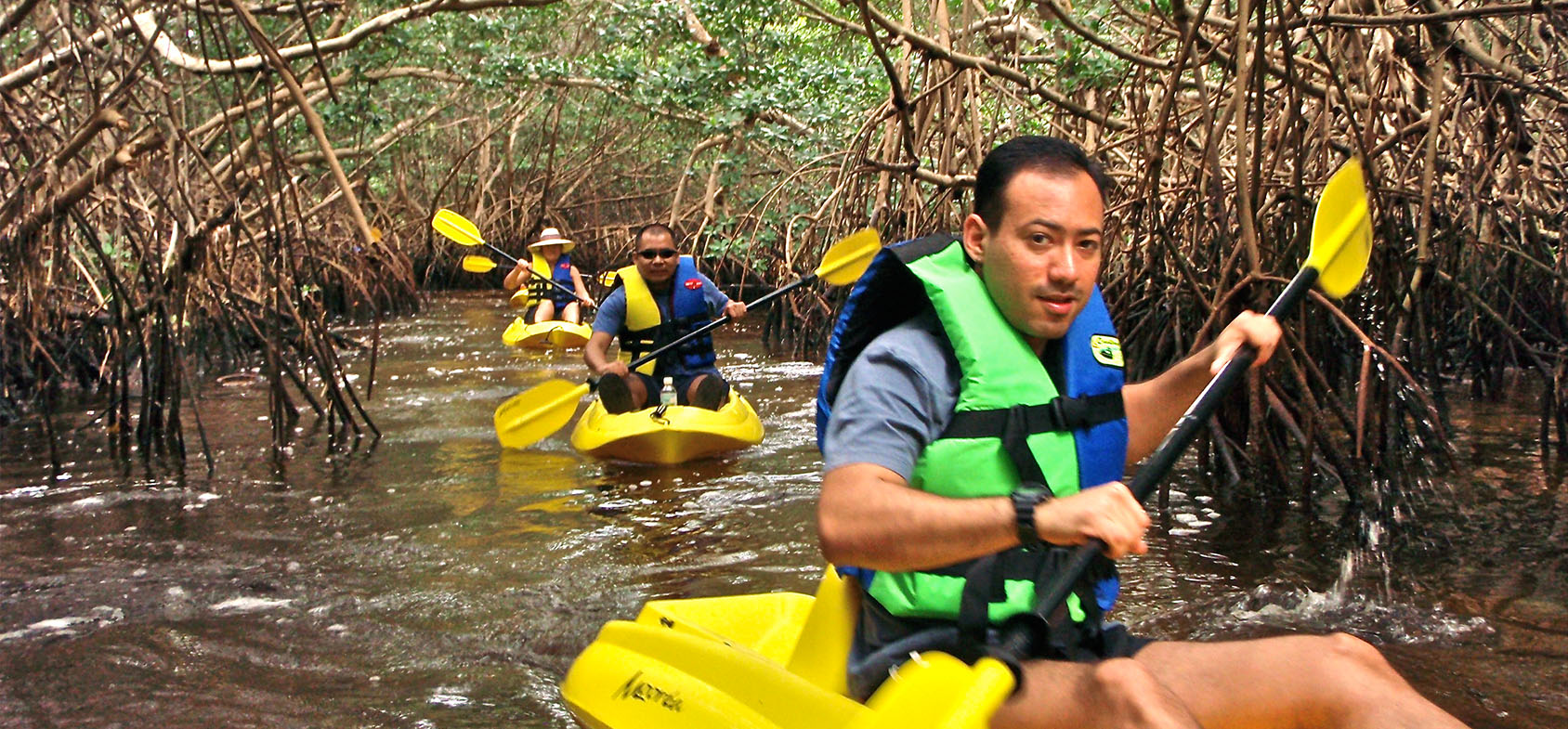 Flora and Fauna of the Yucatan
Ideal for nature lovers, this tour blends visits to such main Maya archaeological sites of Mexico as Tulum, Coba, and Chichen Itza with opportunities to learn about turtle protection, maya bee-keeping, the Punta Laguna Spider Monkey Sanctuary and the Celestun estuary with its colony of pink flamingoes.
8 Days / 7 Nights.
Day 1: Arrival in Cancun and transfer to beautiful AKUMAL beach. Overnight at Hotel Villas Maya (or similar).
Day 2: Meet your specialized guide and get ready for a walk along the rocky coast to the YALKU inlet. Stop at XEL-HA BAY for snorkeling and swimming. Overnight at Hotel Villas Maya (or similar).
Day 3: Morning visit to the Maya seaport ruins of TULUM. Visit the Turtle Protection Center at XCACEL. Continue on to the archaeological site of COBA. After a delicious lunch at a local restaurant visit the site and then spend time observing the avifauna around the Coba Lagoon. Enjoy a late afternoon sunset at the PUNTA LAGUNA SPIDER MONKEY SANCTUARY. Overnight at Hotel Villas Arqueol&oacutegicas Cob&aacute.
Day 4: Enjoy early bird watching around the lake before departing for the fascinating underground cenote of DZITNUP. Lunch in the colonial city of VALLADOLID followed by a visit to the BALANCANCHE CAVES. Arrive at the charming Hotel Hacienda Chich&eacuten in time for some late afternoon birding.
Day 5: Morning visit to the archaeological site of CHICHEN ITZA. After lunch travel to the colonial city of MERIDA, capital of the State of Yucat&aacuten. Overnight at Hotel Caribe, located in the heart of the city and within walking distance to the main square.
Day 6: Early departure for the small fishing village of CELESTUN, located on Yucatan's Gulf coast. Board boats for a journey up the estuary to view the large colony of flamingoes and many of the over 300 bird species found there. Enjoy a Moonlight Safari boat tour to search for crocodiles, night heron and other elusive nocturnal species. Overnight at the Hotel Ecoparaiso Xixim.
Day 7: Early birding along the coast. Drive south, stopping at several HACIENDAS along the way before arriving at CEPEDA Village. Visit a Maya family--learn about MAYA BEE-KEEPING--and enjoy a delicious lunch in their home. Return to M&eacuterida. Overnight at the Hotel Caribe.
Day 8: Morning transfer to M&eacuterida airport. Flight home. END OF SERVICES.
All tours are led by specialized guides.
The Jewels of Yucatan and Campeche tour includes:
- Land transportation in air-conditioned vehicles.
- Accident insurance during the tour.
- Specialized tour guide.
- Entrance fees to sites and boat tour.
- Hotels, including gratuities for bellboys and maids.
- Meals as mentioned in the itinerary.
Not included:

- Beverages
- Telephone calls
- Personal laundry

Suggested items to bring along:
- Insect repellent
- Sunscreen (preferably biodegradable)
- Binoculars
- Hat
- Raincoat
- Comfortable clothes
- Bathing suit
- Walking shoes
- Small towel.
SEE VIDEO
Email us today asking for our tours.
---
View some examples of the other tours we provide, keep in mind that our "forte˜" is the creation of "ONE-OF-A-KIND" TOURS, designed with your needs and interests as the most important ingredient.
Calle 3 No. 235 x 32A y 34
Col. Pensiones C.P. 97219
M&eacuterida, Yucat&aacuten, M&eacutexico.
Tel: (52) (999) 920-2772
Tel: (52) (999) 925-2187
Fax: (52) (999) 925-9047